If you are in the market for a new ERP system you've come to the right place.
We've created this comprehensive ERP Vendor listing guide to identify the top ERP vendors and the ERP software systems they offer.
If you've been researching ERP software solutions for any length of time, I suspect by now you are aware there are literally hundreds of ERP software options out there.
It can be overwhelming to sift through all of the potential solutions that might be a match for your organization's needs, or worse yet-- to spend time and money on an ERP system that totally misses the mark.
That's why we've compiled this exhaustive list of the top ERP vendors of 2022.
Help your organization cut through all the marketing fluff so you can focus on the top ERP vendors and ERP software applications that could be an ideal fit for your business.
This guide will introduce the best ERP solutions for 2022. Feel free to bookmark it as a future resource.
Table of Contents



Click on a vendor to learn more
Top ERP Vendors in 2022
The following enterprise software vendors and ERP systems made the cut based on our expert opinion, real customer reviews, and industry analyst ratings/insights.
In no particular order, these are the top ERP vendors you should consider for your next ERP project.
Oracle
Company Profile:

Headquarters: Austin, TX
Ownership: Public
Stock Ticker: NYSE: ORCL
Number of Employees: 135,000
Annual Revenue: $39.5B
It should come as no surprise that Oracle stands as one of the top ERP vendors on the market today. As the second-largest software company in the world by revenue and market capitalization, Oracle develops applications and tools for database development, Enterprise Resource Planning (ERP) software, Human Capital Management (HCM), and Supply Chain Management (SCM) software.
Oracle's dominant market share in the EPR industry is largely influenced by several notable acquisitions including PeopleSoft (including JD Edwards) in 2005, Siebel in 2006, and later NetSuite in 2016.
While Oracle receives substantial revenue from legacy on-premise ERP products such as Oracle E-Business Suite, PeopleSoft, and JD Edwards, the major focus of Oracle sales and marketing is spent promoting its "born in the cloud" ERP portfolio, including NetSuite, the #1 selling cloud-based ERP for the SMB/ MME marketplace.
oracle Cloud-based ERP Products:
Oracle Fusion Cloud ERP
Oracle's flagship cloud-based ERP product "Oracle Fusion Cloud ERP" focuses primarily on four key areas:
Financial Management
Supply Chain Management
Project Management
Risk Management
Oracle Fusion is geared towards larger, more complex organizations preparing to move key business systems that were once on-premise to the cloud.
Benefits of Oracle Fusion include flexible billing contracts, ease of integration with other Oracle applications, and extensive customization options.
While Oracle Cloud is a great ERP system, some potential areas of concern have more to do with who is and isn't a good fit for Oracle Cloud ERP. Companies that have complex manufacturing needs or global supply chains are likely not a great fit (today) for Oracle Cloud ERP. While Oracle Cloud is highly capable there could be better, more mature options to address these specific areas.
Areas of concern: Some of the common customer complaints revolve around lackluster technical support, long/expensive implementations, and a partner ecosystem still learning the ins and outs of Oracle Cloud ERP.
Oracle Cloud ERP Pricing: Some online resources claim Oracle Cloud ERP pricing starts at $175/month/user. However, with any tier 1 ERP solution you can expect to spend a couple hundred thousand to well over a million dollars for the software and services.
Oracle Fusion Cloud Customer Reviews: "Oracle ERP cloud is a full comprensive solution that has the capability to cover all our business needs. For a company like us that implemented the solution more than 3 years ago, there are 2 main added value points that we apreciate: 1. The setup steps to cover new business requirements are supported with a rich documentation and a shared knowledge. 2. The extensions powered by an omnicomprensive set of REST API enable the solution to be adjusted to all new busines needs." Source: Gartner Peer Insights
NetSuite
Purchased by Oracle in 2016, NetSuite ERP is a cloud-based enterprise resource management platform that improves businesses' effectiveness, automates core processes, and provides operation-wide visibility. Users can pick and choose advanced modules à la carte to create their own custom-tailored ERP solution.
While Oracle Cloud ERP and NetSuite do overlap in some functionality, NetSuite is really directed at companies that have outgrown entry-level accounting systems such as QuickBooks or Great Plains and looking for a more robust cloud-based ERP solution that can help them scale, while providing greater visibility organization-wide.
Areas of concern: NetSuite has experienced tremendous growth in recent years and as a result, some common customer complaints revolve around lack of highly capable technical support and too few seasoned consultants available in the marketplace.
NetSuite ERP Pricing: NetSuite pricing starts at $99/user/mo plus the cost of the suite which starts at $1,499. However most NetSuite customers will spend between $30 to $150k per year for the software and another $50k - $250k for implementation services, depending upon the ERP project scope.
Oracle NetSuite Customer Reviews: "Netsuite offers an infinitely expandable product to our adjust for future business needs and future systems users/employees capabilities. They are also constantly improving the product offering to enabling us to leverage new technology with low implementation costs... " Source: Gartner Peer Insights
oracle Legacy On-premise ERP Products:
Oracle E-Business Suite
Oracle E-Business Suite (also referred to as EBS) is a fully integrated, comprehensive suite of business applications that span financial management, supply chain management, human resource management, project management, and more. While Oracle EBS can be deployed in the cloud, it was originally intended for on-premise use by large organizations with lots of complexity. To date, there have been over 2,000 deployments across dozens of countries in some of the largest corporations around the globe.
Oracle EBS Customer Reviews: "Oracle E-Business Suite is the most comprehensive and useful suite of integrated, global business applications which are enable organizations to make good decisions, reduce costs, and increase performance. Oracle E-Business Suite is having strong team management with risk tackling approach. The support and service system is also very helpful and online available 24*7 " Source: Gartner Peer Insights
JD Edwards
Founded in Denver, CO, in 1977, JD Edwards the developer of EnterpriseOne is an integrated ERP software suite that was acquired by PeopleSoft just before the Oracle PeopleSoft acquisition in 2004. JD Edwards, referred to as JDE, is commonly used in the manufacturing, distribution, consumer package goods, and construction industries.
JD Edwards offers plenty of flexibility when it comes to deployment and database preference. It can be deployed both on-premise or in the cloud (private, public or hybrid) and offers over 80 additional application modules users can deploy as their business needs shift. While there are still thousands of companies that run JD Edwards around the globe, Oracle sells very few new JDE logos and is actively trying to migrate legacy customers to the cloud (Oracle Fusion).
JD Edwards Customer Reviews: "We've just migrated from a legacy JDE system to EnterpriseOne and it turned out to be a really tough ride - the initially planned timeframe was exceeded 3-fold and we yet have to get full control of our material flow again. The reporting features are outstanding, the UI is up-to-date, but under the hood it's extremely complex and migration isn't smooth as one would wish it'd be unfortunately." Source: Gartner Peer Insights
PeopleSoft
Also founded in 1977, PeopleSoft offers a suite of integrated applications designed for mid to large organizations that were originally developed with a key focus on human resources and financial management. Over the years, PeopleSoft has matured to include additional modules and capabilities that better support additional departments throughout the entire enterprise. Over the years, PeopleSoft has gained significant traction within the higher education and healthcare sectors and continues widespread use over thousands of customers across dozens of countries.
What do the analystS say?
Oracle has continued to receive the highest marks from reputable industry analysts, such as Gartner's Magic Quadrant report that comes out each year.
Most recently, both Oracle's Fusion Cloud ERP and NetSuite were featured in the top right (the best) quadrant for "Cloud Core Financial Management Suites for Midsize, Large and Global Enterprises," with Workday and SAP S/4 HANA trailing closely behind.
To have two products featured in the Leader category shows Oracle's commitment to bringing best-in-class cloud-based ERP solutions to the market that are highly capable, providing tremendous value to the organizations that use them.

SAP
Company Profile:

Headquarters: Waldorf, Germany
Ownership: Public
Stock Ticker: NYSE: SAP
Number of Employees: 100,330
Annual Revenue: $32.15B
SAP the company/brand has become synonymous with ERP software. Most people think of SAP first when they think of ERP software.
SAP's partner ecosystem is vast and provides broad capabilities across many different types/sizes of companies, everything from SMB sized retailers to the largest global industrial manufacturers.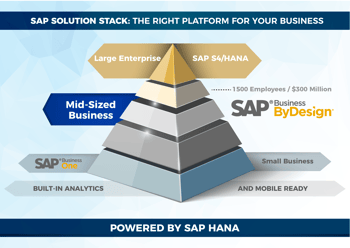 SAP offers three cloud-based ERP products, with SAP S/4 HANA being their flagship cloud-based ERP aimed at the largest, most complex enterprises, followed by SAP Business ByDesign a great product for the MME, and SAP BusinessOne, a complete, all-in-one ERP designed and priced for SMB sized companies.
All three ERP applications are great solutions for companies that are looking for an integrated solution tying together financial, inventory, supply chain, project, and staffing data to drive better decision-making and visibility to the organization.
All of these ERP products can be deployed using HANA, SAP's multi-model database that stores information in memory instead of on a disk, which allows for real-time analytics even for large businesses with massive amounts of data/transactions.
SAP Cloud-based ERP Products
SAP S/4 HANA
S/4 HANA is SAP's flagship cloud-based ERP product (that can also be deployed on-premise). SAP S/4 HANA is built on the HANA database, giving SAP less dependency on competitor databases and providing groundbreaking performance, especially for companies storing massive amounts of data and transactions. While S/4 is SAP's tier 1 EPR, it's not designed for just any type of business; its best for organizations that are large, complex, and global in nature (and have a seven-figure ERP budget).
SAP S/4 Pricing: Like many ERP companies, SAP does not publicly disclose list price information for S/4HANA ERP. However, as with most tier 1 ERP systems, you should anticipate a high six- to seven-figure ERP budget to implement S/4HANA.
SAP S/4HANA Customer Reviews: "SAP S/4HANA is one of the best enterprise resource planning system that I have worked with, because its operation is very potential to carry out tasks with high precision and high performance, its flexibility has delighted us because this allows the system to adapt easily to all our needs of use, it is a very practical and very updated system, I really describe sap s/4hana as the best among all its competitors" Source: Gartner Peer Insights
SAP Business ByDesign
SAP Business ByDesign had a rocky start with its initial introduction to the marketplace and actually claimed to stop further development of the ERP solution back in 2013. It used to be the butt of jokes by industry leaders such as Zach Nelson (former NetSuite CEO). That being said, SAP in recent years has continued to increase R&D investment into ByDesign and was recently acknowledged by Gartner, as a "Niche Player" in their annual Magic Quadrant analysis.
SAP Business ByDesign Pricing: The monthly base package fee starts at $1,818 which includes two advanced users and three core users. Additional core users cost $120 per month, and any additional advanced users cost $217 per month.
SAP ByDesign Customer Reviews: "Use this to manage our financials and production tracking for materials, build instructions, quality checks, part ordering and product management. It is easy to use and input information into for BOM, and for searching to find items." Source: Gartner Peer Insights
SAP Business One
SAP Business One is a complete all-in-one ERP solution designed for SMB sized companies that can be deployed both in the cloud and on-premise. SAP is very popular among small manufacturing and distribution companies through Europe and North America and tends to compete well with companies like NetSuite and Sage. It's best suited for companies with limited financial complexity that need highly capable supply chain and inventory tracking capabilities, which Business One delivers.
SAP Business One ERP (Cloud) Pricing: SAP BusinessOne offers three different tiers of licenses: Professional, Limited, and Starter.
Professional: $132 per user per month. Provides unlimited access to all of SAP Business One's features, including financial management, sales and customer management, purchasing and inventory control, and more.
Limited: $99 per user per month. Limited user licenses have limited access to a particular professional area.
Starter: $110 per user per month. The starter package is designed for startups and small businesses and includes accounting, sales orders, item management, and purchasing.
Most SAP Business One projects will be in the ~$75k-$150k price range for both the initial software subscription and implementation and support services.
SAP BusinessOne Customer Reviews: "SAP All-in-one is a very good integrated Enterprise Resource Planning(ERP) solution. We are using it from one year and its provides us everything including customer management, construction accounting, and service management modules etc. It helps a lot in growth of business and its features like data analysis and user security are really great. SAP All-in-one providing a very good data processing speed and it easily integrates. " Source: Gartner Peer Insights
What do the analystS say?
SAP S/4 HANA has continued its leadership position in the "Leaders" category in the Magic Quadrant for Cloud Core Financial Management Suites for Midsize, Large and Global Enterprises in 2021. SAP was also acknowledged with their SAP Business ByDesign cloud-based ERP being considered in the "Niche Player" category, which is new territory for ByDesign. Having two ERP solutions featured in 2021's Magic Quadrant shows SAP's commitment to offering best-in-class cloud-based ERP solutions for SMB and MME companies alike.

Microsoft
Company Profile:

Headquarters: Redmond, WA
Ownership: Public
Stock Ticker: NASDAQ: MSFT
Number of Employees: 156,439
Annual Revenue: $143.02B
Microsoft Dynamics 365 is one of the most popular ERP products in the marketplace today. In fact, Microsoft Dynamics ranks #5 in terms of EPR market share.
Dynamics ERP was originally the result of several Microsoft acquisitions including Navision, Axapta, Great Plains, and others, in which Microsoft combined the best aspects of these legacy solutions to create a common system that was purpose-built for cloud deployments.
Microsoft Dynamics 365 ERP Products
Dynamics 365 Business Central Overview
Business Central is an ERP designed for SMB/MME-sized companies that have more straightforward needs and not a lot of complexity in their business and/or processes. The cost to license and implement Business Central is much lower than its bigger brother, Dynamics Finance and Operations. Businesses that are looking for a setup from QuickBooks and Fishblow might be a good candidate for a product like 365 Business Central.
Dynamics 365 Business Central Pricing: Dynamics 365 Business Central offers three different tiers of licenses: Premium, Essential, and Team Members.
Premium: $100 per user per month. Provides access to financial management, sales and customer management, purchasing, service and project management, inventory control, manufacturing, and more.
Limited: $70 per user per month Includes everything in Premium with exceptions around manufacturing and service management.
Starter: $8 per user per month includes employee self-service, run reports and approvals
Dynamics 365 Business Central

Customer Reviews: "

Microsoft's 365 ecosystem has matured across the entire portfolio and has led to Microsoft becoming a formidable player throughout the technology stack, even in niche solution areas. Microsoft Dynamics Business Central seems to be designed by people who actually understands what businesses need from technology vendors.

" Source: Gartner Peer Insights
Dynamics 365 Finance & Operations Overview
Dynamics 365 Finance & Operations is a much bigger, more capable ERP solution designed to compete with other tier 1 ERP solutions such as SAP S/4 HANA, Oracle Fusion Cloud ERP. Large businesses that have lots of complexity and/or are international in scope are a better fit for Finance & Operations over Business Central.
The Dynamics 365 products offer several pros including product flexibility, extensibility, and a vast ecosystem of VARs and ISVs that can fine-tune an ERP solution for most industries. Some cons for Dynamics 365 are that it's not as robust as other ERP solutions that excel with high volume distribution and/or complex manufacturing. Another con with Dynamics 365 is that with its extensive technical capabilities, finding the right partner to assist with change management is equally important as finding a partner with the right technical capabilities.
Dynamics 365 Finance & Operations Pricing:
Finance & Operations are licensed as two separate applications: Finance and Supply Chain Management.
Licensing for each user starts at $180 USD/user/month for single-app full users of Finance or Supply Chain Management with a 20 seat minimum. If you choose to license more than one application you can license other applications for an incremental $30 instead of $180 (20 seat min).

Dynamics 365 Business Central

Customer Reviews:

"

It is a excellent ERP solution for business purpose, The platform is very stable as it is provided by Microsoft and the continuous and rigorous support increases the performance capabilities.one of the most used feature is the advance accountancy with intercompany benefits to enhance the chances of overall effectiveness and efficiency at the same time in the organization. It is also very vey customizable at the same time and customize the client batches how you want to send the information to them. It is also multi device tool so regardless of how we access and use the systems anywhere and anytime we would be experiencing the same fluid experience along with same safety . It helps to integrate all the multiple products and services we use in a very easy to use and understandable way.

" Source: Gartner Peer Insights
What do the analystS say?
Microsoft Dynamics 365 was just on the cusp of being listed as a Leader in Gartner's Magic Quadrant for Cloud Core Financial Management Suites in 2021 for Midsize, Large and Global Enterprise. However, they continue to remain a Visionary for the time being.

Infor
Company Profile:

Headquarters: New York, NY
Ownership: Private - Koch Industries
Number of Employees: 17,000
Annual Revenue: $3.2B
Infor is a large, privately-owned software company focused on developing business applications for specific industry niches generally deployed via Amazon Web Services (AWS).
Infor has made some notable acquisitions in recent years (e.g. Lawson) and boasts they have around 58 million cloud users and 90,000 customers. Well-known clients such as Bausch & Lomb, Ferrari, and Hershey Entertainment run their businesses on Infor applications.
Infor Cloud ERP Products
Infor LN
Infor Distribution SX.e
Infor VISUAL
Infor CloudSuite
Infor CloudSuite is one of the more popular cloud-based ERP choices on the market today. In fact, they come in at #4 in terms of ERP market share. Infor CloudSuite is very strong with customers within the Food & Beverage, Aerospace & Defence, Fashion/Apparel and Industrial Manufacturing industries.
CloudSuite offers tremendous flexibility in large part due to numerous ERP acquisitions such as Baan (Manufacturing ERP) and more recently Lawson which was very popular with government and non-profits. Some clients may find that CloudSuite has a less modern look and feel with their user interface and those highly concerned about end-user adoption may find other solutions more visually appealing. That being said, Infor CloudSuite's capabilities rival that of Oracle, SAP and Dynamics 365 F&O with very strong capabilities around configure, price, quote (CPQ), being able to quickly and easily translate a sales order/proposal into a work order and predictive analytics capabilities that help make the purchasing and management of inventory much more easily and accurately.
Infor CloudSuite Pricing:
Infor does not publish its pricing information and licensing model online. However as with most ERP's like CloudSuite you can anticipate spending six to seven figures on your ERP software and implementation/support services.
Infor CloudSuite

Customer Reviews: "

Great tool! On time performance, reduced inventory levels by implementing lean practices using APS. We are able to have real time postings and financial tracking. The flexibility of the system allows each user to get the details and use the system very user friendly way.

" Source: Gartner Peer Insights
What do the analystS say?
While Infor was listed as a Niche Player in the most recent Magic Quadrant for Cloud Core Financial Management in 2021 they were also listed as a leader for Enterprise Asset Management (below) in 2019 for Enterprise Asset Management Software performance.
For asset-intensive organizations looking for both a cloud-based ERP and EAM solution, both Infor (and IFS) provide highly competitive solutions that span both ERP and EAM.
Infor was also featured as a Leader in the Magic Quadrant for Product-Centric Enterprises category in 2021.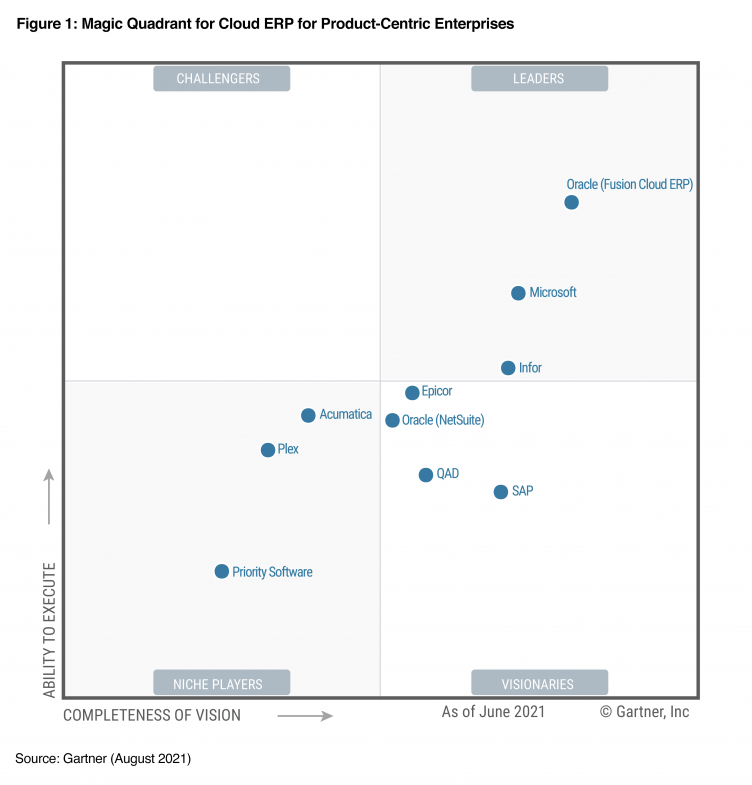 In its 2021 Magic Quadrant for Cloud ERP for Product-Centric Enterprises, Gartner notes that, "The ERP for product-centric enterprises market is accelerating its transition to cloud deployment models. ERP application leaders should use this Magic Quadrant to evaluate cloud ERP application suites as part of a composable ERP strategy."
Infor's CloudSuite commitment to industry-specific ERP solutions, by delivering faster time to value, is paying off in a big way. Its market share growth and analyst reviews are a direct reflection of this focus.
Infor M3
The M3 product came directly from the Lawson acquisition. M3 is a solid ERP for medium to large organizations within the chemicals, distribution, equipment rental/services/management, fashion and food and beverage industries.
Infor M3 Customer Reviews: "Great service overall from Infor, consultant team provided us with the right knowledge to learn the system and take ownership of configurations. Implementation Accelerators helped us start the project on the right track. The support Team from Infor has always been extremely responsive. Product and Development teams have done a fantastic job working on challenges we faced along the way. Moving to the M3 Cloud Edition provided us with hundreds of new features and APIs to streamline the business. What did not work well: The learning curve was quite steep for the Service Provider and us as the customer. A large number of enhancements to the software and architecture became difficult to keep up for everyone involved in the project. " Source: Gartner Peer Insights
Sage Group
Company Profile:

Headquarters: Newcastle upon Tyne, United Kingdom
Ownership: Public
Stock Ticker: SGPYY (OTCMKTS)
Number of Employees: 13,400
Annual Revenue: 1.903 billion GBP
Sage Group, also commonly referred to as Sage, is a multinational ERP software company based in the UK and is the UK's second-largest technology company. It ranks #3 in the ERP market globally, just behind SAP and Oracle.
Sage Financial Management & ERP Products
Sage Intacct - Not a complete ERP, but for the fifth year in a row Sage Intacct scored highest for the Lower Midsize Enterprise Use Case in the Gartner 2021 Critical Capabilities for Cloud Core Financial Management Suites for Midsize, Large, and Global Enterprise report.
Sage Intacct is accounting and financial management software that can be deployed via several options (cloud, SaaS or web). Core financials are easily accessed and users can leverage integrated management and financial reports across the enterprise. Sage Intacct's focus is on automating the most important processes, reducing reliance on spreadsheets, and providing greater visibility into performance.
Sage 100cloud - If your small- to medium-size business (SMB) is discrete manufacturing, wholesale distribution, or professional services, Sage 100cloud is worth a look. With options for cloud, SaaS, web, or on-premise deployment, it offers tools for accounting, manufacturing, distribution, and inventory management. Users say it's a leap ahead from earlier Sage products and can be easily customized to adapt to your growing needs. Businesses who control inventory to drive financial results might find it a particularly good match.
Sage 300cloud - For more complex organizations, Sage 300cloud manages multiple locations across multiple regions, currencies, countries and languages. Financial reporting and analysis modules cover multiple business units, subsidiaries, companies and regions.
With various deployment options, Sage 300cloud is great for businesses in certain industries: operations and inventory management, professional services, wholesale and distribution, manufacturing, public sector, not-for-profit, hospitality, and retail.
Not a full-blown ERP but certainly more affordable, Sage 300cloud helps businesses manage finance and accounting needs. Sales order management, inventory tools, and integrated payments are also featured benefits. The product takes the complexity out of managing business finances across borders with General Ledger (GL) capabilities that ease some of the pain points that occur when organizations span international lines.
Sage Business Cloud X3 - Sage's flagship, cloud-based ERP product is laser-focused on delivering ERP solutions to companies in the $50M-500M revenue range. Sometimes referred to as Sage X3 or Sage Business Cloud Enterprise Management, it gives manufacturers the ability to tightly integrate all their processes across multiple entities, countries, currencies, and languages.
Sage X3 offers everything you would expect from an ERP solution, including: CRM, accounting, inventory, and shop floor management. PE and private family-owned companies tend to be a particularly solid fit for X3 due to its attractive price point to license, implement, and maintain.
Companies that are too large or complex for a tier 3 ERP solution (e.g. SAP BusinessOne or Intacct) but not so complicated as to require a tier 1 ERP (SAP /Oracle) sized solution may find a great match in Sage X3.
Any size of business can benefit from its robust production management, supply chain management, financial management, and collaboration utilities. X3 helps users manage workflows across multiple sites and personalize their workspace access to include only relevant data.
Sage X3 also integrates with mobile devices for a simple cloud solution on-the-go. Product-centric industries including discrete manufacturing (MTS & MTO), process manufacturing (batch), and distributors including wholesale and transportation will find appealing features within the system.
Sage Business Cloud X3 Customer Reviews

:

"My overall experience has been superb with Sage Business Cloud Enterprise Management (Formerly Sage X3). We can use vendor/customer creation, recurring, general ledger recurring, Bulk Item import, financial Budget, Requisition Approval console and purchase order and invoice creation. We can manage accounting, create financial reports and Item reports anywhere. We can lock the period and year. We can use Year End closing feature for All Entry close."

Source:

Gartner Peer Insights
IFS
Company Profile:

Headquarters: Linkoping, Sweden
Ownership: Private
Number of Employees: 4,000
Annual Revenue: Unknown
IFS is a PE-held, European ERP company whose name may be unfamiliar to North American ERP buyers. But it's well-known elsewhere, with over 4000 employees and over 10,000 customers worldwide. Unlike other vendors, it's a stable company that doesn't seem to get involved in constant acquisitions that can disrupt the customer experience.
IFS Cloud ERP is a valuable solution for businesses looking for a modern, cloud-based ERP that also tightly integrates with Enterprise Asset Management (EAM) and Field Service Management (FSM) capabilities.
IFS is laser-focused on solutions for these industries:
Aerospace and defense
Energy and utilities
Food and beverage
High tech and office equipment
Engineering and construction
Manufacturing
Oil and gas
Property and commercial services
Telecommunications
Service industries with 50M- 5B in revenue
IFS can be run in various configurations, either in the Cloud, on-premise, or as a hybrid. One thing that customers like most about IFS is its ability to streamline all aspects of ERP. IFS integrates operations for a variety of workflows, cutting down on internal snags. It doesn't silo functions as much as other vendors' systems: Enterprise Asset Management (EAM) and Field Service Management (FSM) are inherently built-in to the programming.
The IFS Cloud ERP software architecture addresses the entire modern business value chain. Businesses who seek digitization to better compete in today's market will find that IFS does a nice job of integrating and adopting disruptive technologies such as the Internet of Things (IoT), Artificial Intelligence (AI), mobility, and augmented reality (AR).
The system is comprehensive right out-of-the-box; it provides everything that companies need. IFS Modules include: financial management, engineering, manufacturing, project management, supply chain management, maintenance, human capital management, and sales and service.
Automated and digital workflows help organizations plan workforce capacity and scheduling in advance. In a market where rapid change is inevitable, the system allows real-time analysis to help users respond to situations in the moment, eliminating time-consuming paperwork.
IFS Pricing: IFS has simplified licensing with one price for the suite, modules, transaction volumes, and users.
IFS Customer Reviews: "Over the years IFS has proven time and time again that they are a customer-centric vendor with a focus on driving efficiency, usability, and flexibility for their customers. Their growth has been steady while staying true to their values. Many years later I can honestly say buying IFS was an excellent business decision that we have never regretted." Source: Gartner Peer Insights.
What do the analystS say?
IFS Cloud was the Gartner "Customers' Choice" award-winner in Products In Cloud ERP for Product-Centric Enterprises Market in 2020.

IFS Cloud ERP was featured as a "Visionary" in Gartner's Magic Quadrant for Cloud ERP for Product-Centric Enterprises in 2020 but it didn't make it to the Magic Quadrant in 2021.



Epicor (Kinetic)
Company Profile:

Headquarters: Austin, TX
Ownership: Private
Number of Employees: 4,100
Annual Revenue: Unknown
The Epicor ERP 2021.1 release rebrands their flagship ERP solution as "Kinetic," likely influenced by the recent Clayton, Dubilier & Rice private equity acquisition. Kinetic has been refreshed and re-designed to be a more formidable competitor against modern, cloud-based ERP leaders such as SAP and Oracle, and is evidence of the company's 'cloud first' initiative.
Kinetic's focus is on industry-specific productivity solutions, specifically: Automotive, Building Supply, Distribution, Manufacturing, and Retail sectors. The newest update includes functional improvements and is largely focused on providing a better user experience, designed to drive increased user efficiency and productivity.
Their enhanced search functionality now includes predictive search results as well as other enhancements geared towards manufacturers, who must ensure compliance with FDA and CMMC regulations.
A downloadable mobile app functions from anywhere. It features EVA, the Epicor Virtual Agent, which allows users in the field to interact with the system through voice commands or texts. Users can ask questions and get instant answers, streamline quoting and scheduling, and receive targeted recommendations.
Kinetic itself is 100% browser-based and gives users a UI Customization Tool (App Studio) that's also browser-based. Companies can make changes and customizations to screens based on their own business needs in a low-code/no-code environment.
Kinetic is deployable in the cloud, on-premises, or in a hybrid format. Their new public cloud helps companies accelerate collaboration and leverage a single source of truth.
If you're in manufacturing, you know how hard it is to let go of old systems and old processes. Kinetic really strives to give manufacturers real-time visibility into all areas of the business, such as the ability to spot hidden opportunities, plan product runs, balance and distribute work across employees, collaborate with suppliers, and respond to changing shifts in demand.
Robust, built-in analytics help manufacturers expand their footprint and gain market share. The system is customized to support users as they grow and change. Kinetic spurs growth and manages complexity by offering full capabilities for HCM, financial management, CRM, sales, design and engineering, product management, scheduling/planning, supply chain, production management, and customer service management.
Customers say that Epicor is intuitive, a great value, and that its management is responsive and adaptable to the changing needs of the market. On the downside, other users complain that an increased focus on cloud architecture is missing the mark.
Epicor Kinetic Customer Reviews: "The discrete manufacturing feature set is likely best in class, even when compared to the likes of Oracle and SAP. The product suite/feature set and technology stack is a B+/A- rating for the manufacturing industry. They do the major things extremely well in the discrete manufacturing space and offer some unique attributes that set the product offering above competition." Source: Gartner Peer Insights
What do the analystS say?
Epicor was featured as a "Visionary" in Gartner's Magic Quadrant for Cloud ERP for Product-Centric Enterprises in 2021. However, it was not featured in the Cloud Core Financial Management Suites with the likes of Oracle, NetSuite, Infor, and Microsoft.
Acumatica
Company Profile:
Headquarters: Bellevue, WA
Ownership: Private
Number of Employees: 300
Annual Revenue: Unknown
Unlike most providers, Acumatica is not a legacy system that's been adapted to fit new technology. Acumatica is a born-in-the-cloud application that's been around since 2008. From the start it's been accessible through the cloud and on-premises, using the latest web technology. The company claims to be the fastest-growing cloud ERP company for six years running.

Growing, small-to-mid market organizations find that Acumatica delivers flexibility, efficiency, and enables greater continuity of operations. Acumatica offers industry-specific tools and sophisticated cross-module workflows to make business more efficient. And a mobile app allows remote and field workers to access and input data no matter where they're located.
The system is built to handle the unique needs of multiple industries, especially construction, distribution, manufacturing, retail-commerce, software and technology, and other professional and industrial services.

Collaborating is possible thanks to shared single source of truth data and cross-team workflows, and Artificial Intelligence (AI) plays a role in driving automation and improving efficiency. The platform is specifically designed to make it easy for companies to meet evolving business needs.

Acumatica is ready to go off-the-shelf, but it also allows for the integration of other tools and software that your business may already be using. There's also an Acumatica Marketplace where you can shop for the plug-ins you need, or you can develop your own with user-friendly custom integrations and an open API architecture. You don't need to be a coder to make changes through their low-code/no-code visual interface.

Data can be hosted on a public or private cloud and unlike some other providers, you're not forced to use the Acumatica database. It offers anytime-access to data, flexible licensing options, and the pricing model does not add cost for additional users. The company refers to the product as "Acumatica Cloud ERP."

Acumatica ranks high in user experience and usability, which makes it easy to drive adoption and collaboration across your company. Users find Acumatica's intelligent, industry-focused business functionalities useful, especially with productivity aids geared toward commerce, construction, distribution, field service and manufacturing. The user interface is highly intuitive and online reviews state that it's easy to tailor the app to specific business processes.


Acumatica Cloud ERP Customer Reviews: "Acumatica Cloud ERP is well designed for growing small and mid-market organizations. They empower small and mid-size businesses to unlock their potential and drive growth. It's very easy to integrate with the collaboration tools and an amazing API. We like the cost model with unlimited users. Also we can track prices, check available inventory, apply discounts, enter quotes, create shipments, and fulfill sales orders. Acumatica has well-defined online documentation and training." Source: Gartner Peer Insights
What do the analysts say?
While not a Leader according to Gartner, Acumatica does have a 4.7 overall user rating and received recognition as a "Niche Player" in Gartner's Magic Quadrant for Cloud Core Financial Management Suites in 2021, a move from the "Visionary" category in 2019 and 2020.
SYSPRO
Company Profile:

Headquarters: Johannesburg, South Africa
Ownership: Private
Number of Employees: 1000+
Annual Revenue: Unknown
In business since 1978, SYSPRO has a client base of over 15,000 companies across more than 60 countries. Their ERP solutions are best able to manage and streamline small, midsize, and large business activities within specific industries: Food and beverage, chemicals and fertilizers, fabricated metal, plastics and rubber, packaging, furniture and fittings, electronics, pharmaceutical, automotive and accessories, and industrial machinery and equipment.

Specializing in manufacturing and distribution processes, SYSPRO ERP is a modular system, which means you can choose to add modules that apply to your business. Its key features are order management, planning and scheduling, capacity planning, supply chain, production control, manufacturing ops, inventory management, cost control, and traceability.

SYSPRO aims to provide an outstanding user experience, as well as to make it easier for companies to expand into new territories, add new product lines, and drive innovation. It's available on-premise, in the cloud, or as a hybrid.

If you operate in a highly regulated industry, you already know that having impeccable traceability systems and a good crisis management plan is an absolute necessity. SYSPRO helps mitigate risk and stay in compliance.

The system offers full manufacturing traceability:
Track materials from receipt to delivery
Rapidly identify, quarantine, and retrieve defective goods
Meet compliance and regulatory reporting requirements
Monitor customer complaints
And if team members need ERP access from anywhere, SYSPRO offers a web interface called Avanti. It functions via browser and doesn't need to be downloaded. Avanti has a searchable menu system, and all available programs can be grouped by function. Application tiles and insight tiles can be arranged and combined to aggregate information that you need to view quickly, giving you a customizable at-a-glance dashboard.

Queries are built into the system. And once you understand how to query one application, you can query all of them the same way. On-screen tours guide users through portions of the screens and user-enabled themes allow for a change of appearance.

SMBs and large businesses that demand strict distribution and manufacturing controls are a great match for SYSPRO. It's user-friendly and has excellent financial and inventory modules. Benefits of SYSPRO mentioned by users include user-friendliness, scalability, excellent integration capabilities, customization options and great reporting.

Unfortunately, you'll have to look elsewhere for payroll and HR functions, but SYSPRO does interface with most third party systems. Cons mentioned by users include: issues with updates, lack of customer support, and issues with end-of-month billing scenarios.


SYSPRO Pricing: SYSPRO is priced beginning at $199 per user per month and increases depending on added modules.
SYSPRO Customer Review: "A very capable ERP for mid-sized enterprises. Robust bill of materials and structure capabilities. Scalable with regular investments in technology from the vendor. Vendor uses a build approach vs a 'buy and bolt-on' which leads to a more seamless experience. We are a long-time customer." Source: Gartner Peer Insights
What do the analysts say?
Although SYSPRO hasn't made an appearance in the Gartner Magic Quadrant for ERP for Product-Centric Midmarket Companies since 2009 and 2010, Nucleus Research lists them as a Leader in the Technology Value matrix alongside Oracle, Microsoft, and Infor.
Workday
Company Profile:

Headquarters: Pleasanton, CA
Ownership: Public
Stock Ticker: NASDAQ: WDAY
Number of Employees: 3,700
Annual Revenue: $4.32B
Workday may not be a household name, but they're a company to watch. For Workday, it's all about managing change. Their ERP model is based on helping organizations deal with change, and to improve the way employees deal with change-- something that other companies tend to gloss over.
Workday is a cloud-native system with finance, HR, planning, and analysis capabilities. User dashboards provide help to gain insight, respond to change, and work more efficiently through a unified data approach. Personalized dashboards distribute analytics, allowing users to drill down and pivot as needed, based on assigned roles.
Machine learning is built into the system, along with continuous anomaly detection. Their HCM module is a bright spot of the package-- known for its excellence in identifying employee skill sets and helping to plan for changes.
At a time when businesses are seeing huge challenges with staffing, Workday's vision is helping drive the shift from HR systems based on jobs and connections to HR strategies based on skills.
Workday isn't only for HR management – it also offers an ERP system with excellent human capital management capabilities. The recent acquisition of Adaptive Insights resulted in an even better product that specializes in planning and budgeting. Workday ERP serves organizations operating in technology, communications, manufacturing, healthcare, life sciences, higher education, financials, insurance, retail, media and entertainment, hospitality, professional and business services, energy.
Workday is all about helping companies stay ahead of new business models, new competition, and gain insight into changing approaches to business.
Business-first approach
Continuous recalibration
Financial, people, and operational data in one unified core
Workday Customer Reviews: "Workday is our all-inclusive single source system that meets our various talent needs - payroll, benefits, compensation, time tracking, absence management, recruitment, talent and performance management, learning, etc.- and has the agility and power of data analytics to uncover the stories and opportunities for improvement. We appreciate the ability to configure the system to suit our needs and timelines- not where we need to fit our initiatives into a vendor's timeframe. Workday is consistently iterating and improving, which allows us to be agile and deliver even more for our leaders and team members." Source: Gartner Peer Insights
Workday has a 97% customer satisfaction rating, receiving a 95% or higher for the past ten years. They claim to deliver their solution on-time, and on-budget. They also have a flexible education program for training at an engagement level that's right for your organization. Positive reviews bring up mobile accessibility, customer support, financial model building, frequent product updates, data organization, forecasting, ease of use, and robust budgeting.
Critical reviews mention issues with drill-down capabilities, limited dashboard formatting, struggles with multi-currency implementation, and some confusion between Excel and Workday's UI.
What do the analysts say?
For the sixth straight year, Workday was named a leader in the 2021 Gartner Magic Quadrant for Cloud HCM Suites for 1,000+ employee enterprises. And with human resources playing an especially important role in nearly every strategic business decision this past year, Workday's HCM received the highest position overall for the second consecutive year.
How to Choose the Right ERP for You
Now that we've provided you with a list of the top ERP vendors and products, you may be wondering what's next.
How are you supposed to choose the one that's most ideal for your business and your particular needs.
That's where we come in.
We know the ERP industry inside and out.
We're ready to help you identify and select the very best ERP products and implementation partners to ensure that your ERP initiative is a success.
With our proven process, we'll show you how to reduce ERP project risk, reduce cost and decrease your time to value on your ERP initiative.
Want to save money and reduce risk?
Or do you need help with an existing ERP project?
Let's discuss!